It's very impressed how to simply use this method from impro game – YES AND into our lives.
Here is the formula: YES + AND = A CREATIVE FUTURE
It could be used to build all kind of relationships.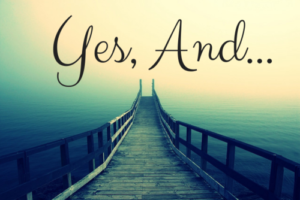 For example, the mindset is like such:
YES: We are together
AND: build a creative scene
Example: You meet a person in the dinner party and you are interested in but don't know how to start a conversation. You got several types of food in your plate, then you say to the person. "Do you know this food is really delicious? You may try some." You point the food to him/her.
YES: You treat the person as someone you know (We are together)
AND: I tried the delicious food and I want to share it with you.
or
YES: to change others put self in the scene
AND: provide a creative solution
Example: Your boyfriend invites you to climb the hills. You don't like climbing but do like to join him. You say "I would like to know what you see at the top of the hills. Would you take some phones for me when you reach there? I want to listen to your climbing experience later, and I will wait for you at the coffee bar nearby the hills…"
YES: I don't like climbing. You do. I want to be involved in your activity and curious about the views on the top of the hills.
AND: I will be there with you for coffee and listen to your climbing experience and see the photos you take for me.